Stan has been married to his wife, Cindy, since 1981 and they have two children, Jeremy and Jena. Stan received his Masters in Management from Indiana Wesleyan University. He currently is an agent/owner of Davis Insurance Services & Farmer Insurance-Stan Davis Agency. Stan has served our family here at Whiteland as an Elder for 10 years.

"…But as for me and my household, we will serve the Lord."
John and his wife, Lori have been married since 1975. He is a Plastics Technician with Berry Plastics. John has served our family here at Whiteland as an Elder for over 10 years. His favorite book of the Bible is Philippians.
Roger has been married to his wife, Terri since 1968 and have four children, 10 grandchildren and two great-grandchildren. Roger is enjoying retirement as a former Manufacturing Engineer. He has served as an Elder for the Whiteland family for 2 years.
What, then, shall we say in response to these things? If God is for us, who can be against us? …No, in all these things we are more than conquerors through him who loved us. For I am convinced that neither death nor life, neither angels nor demons, neither the present nor the future, nor any powers, neither height nor depth, nor anything else in all creation, will be able to separate us from the love of God that is in Christ Jesus our Lord. Romans 8:31-19 NIV
Ed and his wife, Lavana have been married since 1979 and have three children. Ed studied and graduated from Purdue University and is the owner of Whiteland Auto Supply. He has served the Whiteland Church of Christ as elder for five years.
"For I know the plans I have for you," declares the Lord, "plans to prosper you and not to harm you, plans to give you hope and a future."
Jeremiah 29:11 NIV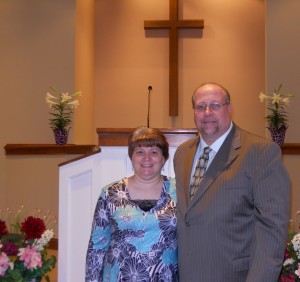 Ronnie has been married to his wife, Angie since 1994 and have two boys. Ronnie received his certification (bachelor equivalent) in Bible from Sunset International Bible Institute in Lubbock, TX in May of 2000. He has been serving as a minister for the Lord's church for 15+ years, working with the Whiteland family for the past 9 years.
Therefore, there is now no condemnation for those who are in Christ Jesus, because through Christ Jesus the law of the Spirit who gives life has set you free from the law of sin and death. For what the law was powerless to do because it was weakened by the flesh, God did by sending his own Son in the likeness of sinful flesh to be a sin offering. And so he condemned sin in the flesh, in order that the righteous requirement of the law might be fully met in us, who do not live according to the flesh but according to the Spirit.
Romans 8:1-4 NIV
Finance / Property Management
Jeff and Lorri have been married for 30 years and have two children. Jeff graduated from Purdue University with a degree in Agricultural Economics and is a retail shop owner. He has served as a deacon now for 15 years and currently oversees our finance and property mangement.
Follow God's example, therefore, as dearly loved children and walk in the way of love, just as Christ loved us and gave himself up for us as a fragrant offering and sacrifice to God. Eph 5:1-2 NIV
Worship Coordinator
Tom has been married to his wife, Nancy, since 1977 and have two children, Tiffany and Jon. Tom's occupation was a letter carrier and he is now enjoying the retired life. He has served the church as a deacon for 10 years.
He has shown you, O mortal, what is good. And what does the Lord require of you? To act justly and to love mercy and to walk humbly with your God. Micah 6:8 NIV
Outreach & Involvement Ministries / Social Media
George and his wife, Rachel have been married since 1998 and have one son, Ashton. George studied music education at Ball State University and Business Management at IUPUI. He currently works for the state as an Investigator. George has served as deacon for 2 years and currently oversees our outreach and involvement ministries along with social media.
Trust in the Lord with all your heart and lean not on your own understanding; in all your ways submit to him, and he will make your paths straight. Proverbs 3:5-6 NIV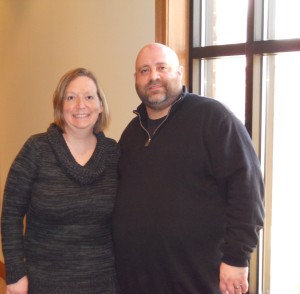 Youth Group
Mickey and Angie have been married since 1991 and have two children, Mackenzie and Zachary. Mickey studied and received a Bachelor of Science in Electrical Engineering. He is currently employed at Cummins where he is a manager in embedded controls. Mickey has served the church as a deacon for 10 years. He currently oversees the youth group.
Do not merely listen to the word, and so deceive yourselves. Do what it says. James 1:22 NIV
Abba Seekers (Senior Ministry)
Jim and Lisa have been married since 1984 and have two boys, Justin and Chad. Jim graduated from Whiteland High School and is a driver for UPS. He has served the Whiteland family as deacon for 9 years. Jim currently oversees the work with our senior ministry, Abba Seekers.
I can do all things through Him who gives me strength.
Philippians 4:13 NIV